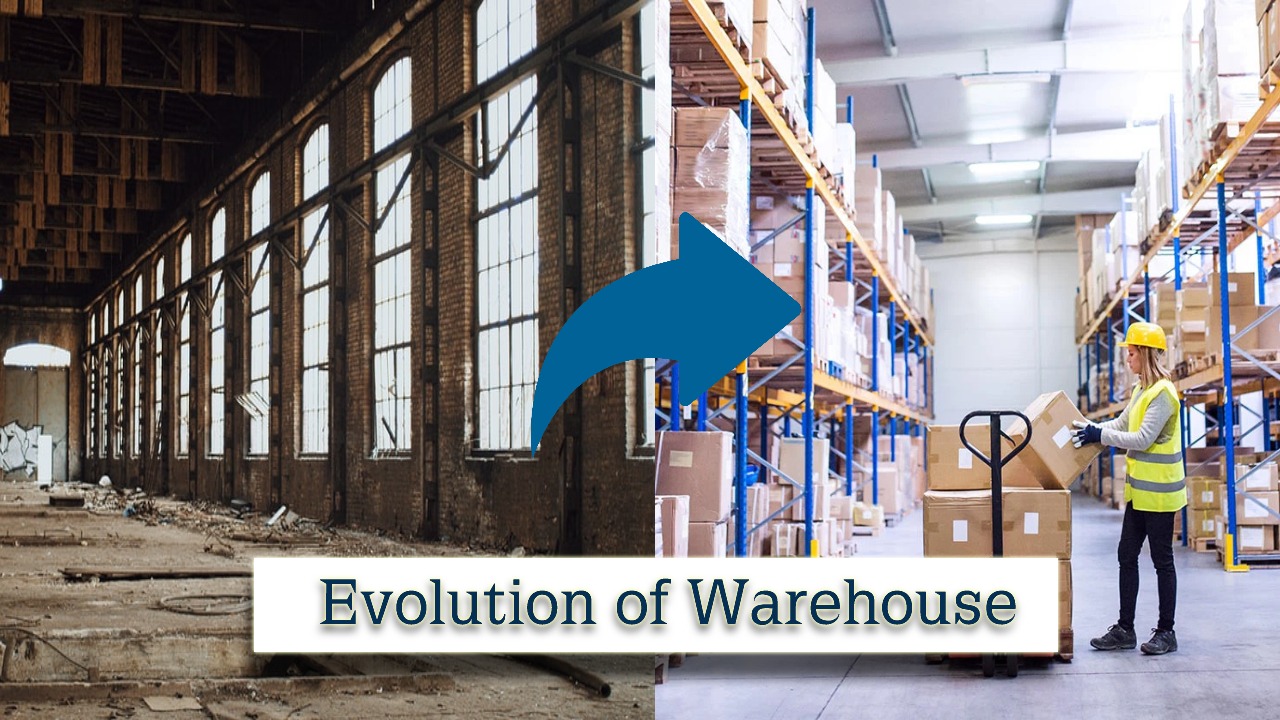 Evolution Of Warehouse
---
Warehouses have a history that goes far back than what most of us assume.
The origin of warehouses can be traced back in history from the time when early people used to create granaries to store their grains. With time, people started creating storage for storing their goods and this storage has been evolving with every development in human civilization. Since then, things started changing drastically.
Today, such storages are known as Warehouses which not only offer space to store goods but also protect the goods from different weather conditions, animals, theft, and several other factors in addition to ensuring higher sustainability of goods.
From Godown to Modern Warehouses, we have witnessed the great transformation of growth and scale-up in every aspect. The low-grade godowns have been replaced by pre-engineered structures which are well-insulated, ventilated, resistant to climatic conditions, with round-the-clock surveillance and standard safety guidelines.
Talking about today, warehouses have played a very important role during the COVID-19 pandemic and have been considered an "essential services" sector. When most of the sectors were affected by this pandemic, the e-commerce industry was not at all affected but it proceeded way ahead because of tech-enablement.
Tech-enablement has become the new normal for warehouses across the world.
The demand for warehouses escalated after the majority of the population shifted to e-commerce for buying and selling of goods & services. The e-commerce boom in India, the sudden shift to online shopping have attracted huge capital and will continue to contribute to the growth of the country's economy in the future.
Today's warehouses are modern, technology-driven, and have become the backbone of the rapidly growing e-commerce industry in India. The evolution in science and technology has empowered the warehouse and logistic industry to emerge itself into a high-performance and impeccably competitive sector. It is possible to track shipments, conduct smooth operations and distributions of the stock with the help of modern and advanced technology.
Below are some of the positive outlooks from the Warehousing industry:
Growth in the retail and manufacturing industry
Domestic consumption of goods and services
Upsurge in country's economy.
FirstLease is India's leading space leasing solution provider and has been delivering the best-customized services for more than a decade. We provide a Complete spectrum of end-to-end solutions for all types of warehouses as per our client's requirements.
You can list your warehouses or search for warehouses at any desired geographical location across the country. You just need to register/login to www.firstlease.in and enjoy the benefits FREE of cost.
The implementation of automation, other technologies, and multi-storey warehouses are still very low in the Indian market. Automated storage and retrieval systems can help to increase the efficiency of warehouses.
Some of the robotic technologies used in large warehouses include Automated Guided Vehicles (AGVs), Autonomous Mobile Robots (AMRs), Aerial Drones (ARs), etc.
Greatest retailers across the world have embraced these modern robotic technologies and witnessed clear benefits to their businesses. Using robots not only reduces warehouse labor but also skyrockets the efficiency of business operations.
Multi-storey warehouses facilitate optimum usage of land/space and can be a plus point in congested and rapidly growing cities. It is very important to know the importance of technology and how it can be integrated into operations in warehouses which not only reduces the chances of errors but also promotes minimal assistance of manpower.
However, we hope that in the coming years, warehouses in India will opt for the large-scale adoption of automation and many other advanced technologies.
-DIVYA BHATTARAI, EXECUTIVE CONTENT WRITER (FIRSTLEASE)
By Admin , 2022-04-01 06:01:39