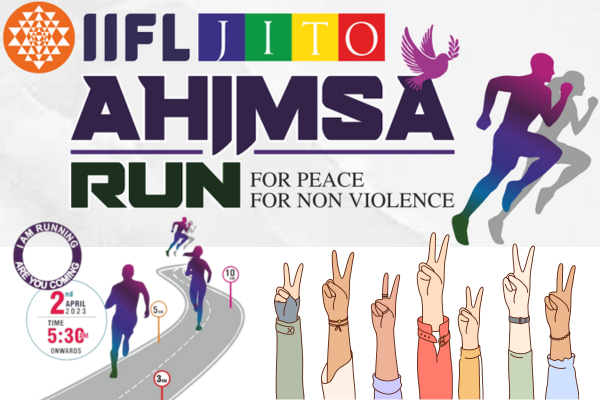 IIFL JITO Ahimsa Run attracts huge participation
---
The IIFL Jito Ahimsa Run is the largest run for the cause of peace and non-violence which will be held across over 65 cities in India. The run is organized by the ladies' wing of Jito (Jain International Trade Organization) and IIFL besides Jito volunteers and supporters across the world.
IIFL Group, which is one of India's largest financial services conglomerates, aims to create a Guinness Book of World Records with the IIFL Jito Ahimsa Run.
IIFL Group, founded by Nirmal Jain has become one of the most successful financial conglomerates in India in just over two decades with distinctly listed businesses - IIFL Finance, IIFL Wealth (360 One), IIFL Securities, and (5paisa.com) - each in leadership positions in the segments they operate. The group also has two subsidiaries IIFL Home Loan, and IIFL Samasta Finance, one of the largest affordable housing finance and microfinance businesses respectively.
The run which started on the 2nd of April has been endorsed by many public personalities across India and aims to initiate the younger generation towards peace and non-violence at an early age to create a future generation where war and violence will become a thing of the past.
'Ahimsa' means forgiveness, positivity, cosmic love, strength, and brotherhood. Ahimsa is Shakti and in today's turbulent times, we all need to come together and show our Shakti (strength). And what better day one can choose for IIFL Jito Ahimsa Run than just before Mahavir Jayanti when the whole world pays respect to Lord Mahavir - Lord of Forgiveness.
This is a run for all Communities, Genders, and Age Groups.
Kill not, cause no pain. Ahimsa is the greatest religion- Lord Mahavir
By Admin , 2023-04-04 06:33:45