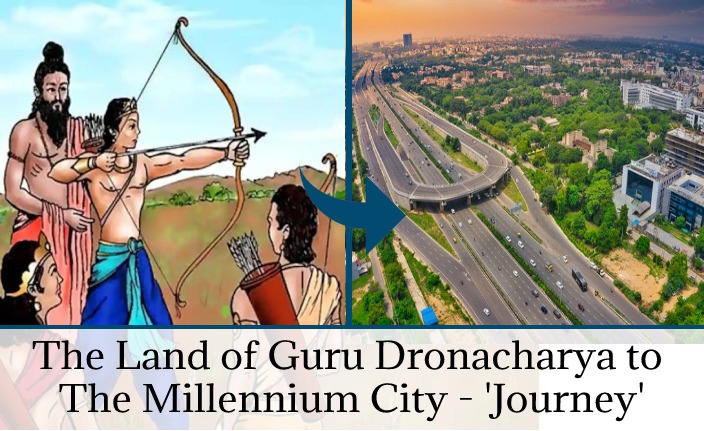 Gurgaon- The Village of Guru Dronacharya
---
GURGAON, the name itself so appealing to say and listen to, is believed to be the village of eminent figures of the great epic, Mahabharata.
According to Mahabharata, Gurgaon aka Gurugram is the place where Guru Dronacharya used to live and is also believed to be owned by the Pandavas and Kauravas. This land was gifted to Guru Dronacharya by King Drupad.
The name change from Gurgaon to Gurugram is a tribute to Guru Dronacharya.
Throughout history, it has been a great place for learning and education. This can be traced in the Hindu scriptures of the Bhagavad Gita. For a period of about 12 years, Guru Dronacharya taught the art of warfare to the Kuru princes (Pandavas and Kauravas) here in Gurgaon.
At present, Gurugram is home to a number of established, start-up companies (national and multinational companies) and a source of livelihood for people coming from different parts of the country. This city has so much to offer that's why every month, thousands of immigrants come to this city to learn, earn, and explore.
People here have always followed Vastu shastra be it for buying a House, Office, Warehouse, Industrial Space, or Retail Space.
By definition, Vastu Shastra means "The Science of Architecture." It makes one's life better and full of positive energy. Moreover, it also shows one the path to Success, Welfare, and Well-being. Vastu Shastra wards off negative energy and there is a continuous flow of positive energy in one's living space or working space.
Let's take a glance at some of the Vastu tips for office spaces:-
Direction:- An office space facing North, East, and North-East direction is always auspicious and prosperous for both the entrepreneurs and the employees.
Location of cabins:- The private cabins of the Business Head should be in the Western part of the office facing the northeast direction. This direction helps in enhancing leadership skills.
Financial prosperity:- North and northeast direction are believed to be ruled by Lord Kubera, the God of Wealth and Prosperity. So the mentioned Vastu directions are best for the company's financial prosperity.
Color:- Warm and vibrant colors are very stimulating. It is believed that the red color stimulates the left side of our brain thus enhancing productivity.
Other elements:- Lights and decor items add essence to an office space. Flowers or plants in the reception area not only make the environment attractive but also makes one fresh, boosting energy level and productivity. According to a study, people working in natural lights experienced drops in health issues such as headaches, eyestrain, and blurred visions.
Imagine a worker looking tired in the morning as a result of the tan and dull colors of the office environment.
The office environment plays a vital role in the working nature and performance of the employees.
The entrepreneurs and landlords here in Gurgaon have always followed the Vastu tips for every old and new journey of their lives. And they do not compromise when it comes to Vastu Shastra. So why compromise with commercial spaces when you can explore and get the best in the country.
We at FirstLease assist our clients with commercial spaces which are ready to move in right away. We help our clients find spaces that suit their needs and fulfill the Vastu Shastra as well.
-Divya Bhattarai
Content Writer, FirstLease
By Admin , 2022-07-16 08:04:57