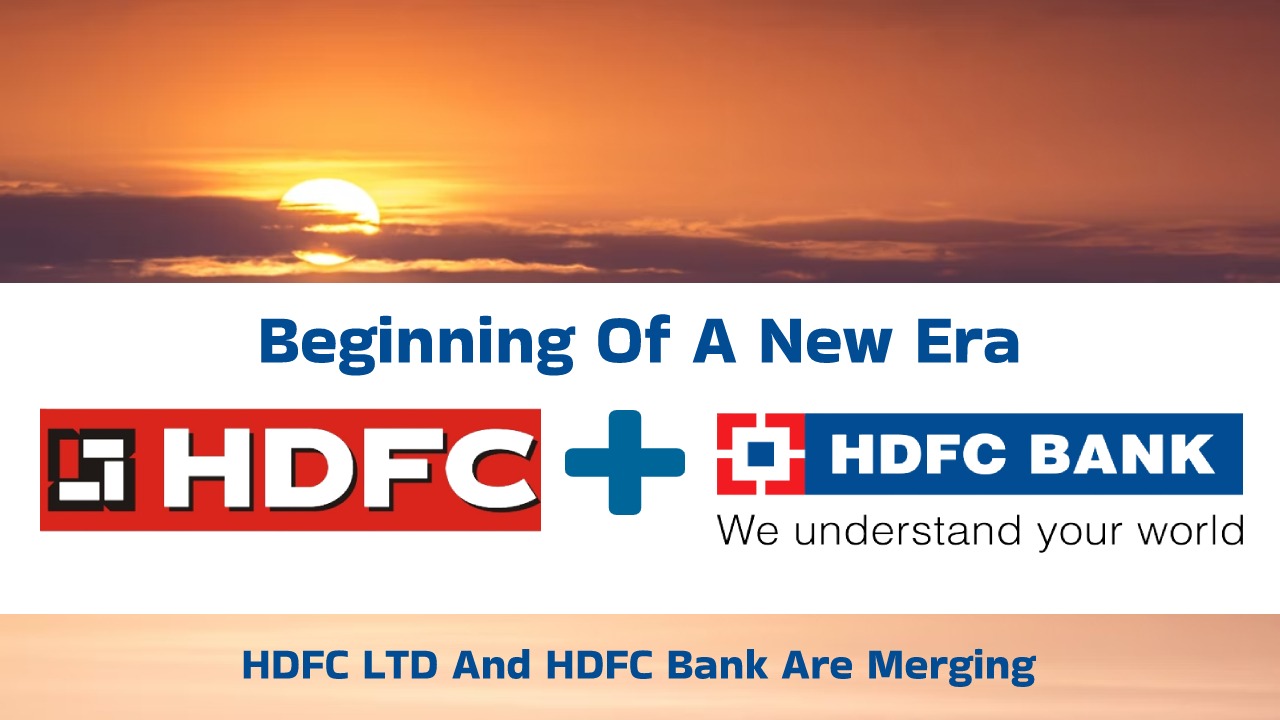 HDFC Ltd and HDFC Bank are Merging
---
HDFC bank is a household name with 28 years of the illustrious history of creating benchmarks and redefining services in the Banking sector.
Firstly, let us go back in history to exactly know the relationship between HDFC Limited and HDFC Bank.
This is the year 1977 when HDFC Limited came into this world with only one goal - To change people's behavior.
Starting off HDFC Limited, a 45 years old institution that is considered to be the parent of 28 years old HDFC Bank. Back then, things were different, the way people think was different.
For building a house, people waited until retirement. They saved every penny of their earnings just to build their dream house. Borrowing money from others was completely an alien concept for them.
That's when HDFC was born, to change the way people think, to let people understand that borrowing money is not a foreign concept, but a concept that can help them fulfill their dreams or build their dream house faster and enjoy its merits during their lifetime.
THE FIRST CUSTOMER- They persuaded D.B. Remedios to take a loan of Rs. 35,000 to build a house of Rs. 70,000. Within a year, the lender's annual loan approvals had crossed Rs. 100 crore mark. This is how HDFC paved its way toward success and since then, there was no looking back. Home loan was the nickname of HDFC. Besides building dream homes for the country's population, it also birthed one of the top private lenders in the country.
Then People were dissatisfied with public sector banks as they were overloaded with heritage and they needed a fresh experience- something customer service-centric and quick in action. Thus the offspring, HDFC bank was born.
If you start something you either fail or succeed. So was the case of HDFC Bank, initially, things didn't go well; yet quitting was not the solution.
With its grit and determination, HDFC Bank became India's second-largest bank and earned its well-deserved place in the 100 most valuable brands in the world.
After years of working individually, the family has finally decided to unite. It's time for them to merge and become one. The subsidiaries and associates of HDFC will also be transferred to HDFC Bank. With HDFC Ltd's resources/assets tossed into the mix, it is anticipated that HDFC Bank's market share will go from 11% to 15%.
Why did the need for merging arise?
Let us again travel back to the year 2020, when the internal group of RBI published certain proposals that all the Non-Banking Financial Companies (NBFCs) should be converted into banks.
Both the parent (HDFC Ltd.) and the offspring (HDFC Bank) thought it would be best to become one instead of functioning parallelly. Thus, these two stellar institutions will close the transaction in the next 18 months.
Talking with FirstLease Investment Consulting Head, Mr. Amit Sachdeva, this is what he quoted, "This merger will be beneficial for the stakeholders of both the entities as well as for the Indian economy. We require bigger and stronger financial institutions for the progress of India. A step in the right direction."
By Admin , 2022-04-28 09:19:54