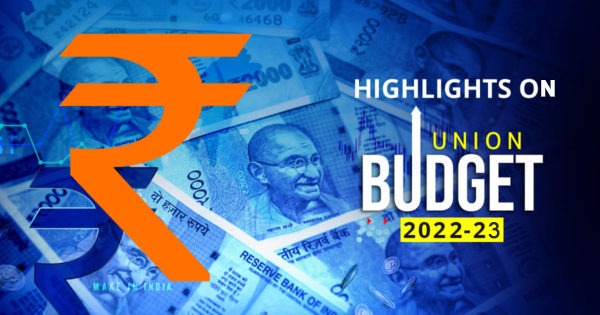 Highlights on Union Budget 2022-23
---
The union budget 2022-23 which was presented by Finance Minister, Nirmala Sitharaman on 1st February 2022 focused on the enhancement of various sectors to bring growth to the country's economy and long-term development of the country.
The main thrust was laid on Infrastructure enhancement.
Under the Gati Shakti project, National Highways will be extended by 25,000 km and the outlay for this expansion project is Rs.20,000 crore.
For the first time, the entire session was conferred by the FM on a digital tab which clearly shows the focus on digital infrastructure. Under digital infra, be it for a bank, payments, fintech innovations, or initiation in rural areas more focus will be laid on this project not only now but in the coming years too.
For urban planning, 5 centers of excellence will be designated out of the existing educational institutions. And each center will be funded 250 crores as an endowment fund.
There were few highlights for all the key real estate assets classes- commercial, residential, and warehousing. The new SEZ (Special Economic Zones) Act will be a significant booster for commercial real estate and can be seen as an enabler for inducing institutional capital flow in the asset class.
Housing & urban planning
Rs 48, 000 crores is allotted for PM Awas Yojana.
In 2022-23, 80 lakh houses will be completed for identified beneficiaries of PM Awas Yojana. In rural & urban areas, 60,000 houses will be identified as beneficiaries for PM Awas Yojana.
60,000 crore allocated for providing access to tap water to 3.8 crore households.
In 2022-23, 80 lakh households will be identified for the affordable housing scheme.
Modern building by-laws will be introduced.
Union Finance Minister, push for low-cost housing ensured that Budget 2022 has delivered on expectations from the Real Estate Sector. There was a lack of new and direct highlights on the real estate sector, yet the Finance Minister overlaid that 50% of India will live in cities by the year 2047.
FirstLease Experts on Budget 2022-23
Amit Sachdeva, Head Investment consultancy at FirstLease (Commercial space provider) quoted, "as the Capital Expenditure (Capex) target has expanded by 35.4 percent — from Rs 5.54 lakh crore to Rs 7.50 lakh crore and FY23 effective Capex is now seen at Rs 10.7 lakh crore, India's growth would be highest among all major economies and we are now in a strong position to withstand challenges."
Navraj Sharma, Head Business Development at FirstLease (Commercial space provider) added that continued focus on the affordable housing sector will help revive the construction and allied industries related to the real estate sector. He further added, "it will provide an opportunity to the economically weaker sections of the society to own a housing unit at an affordable cost."
Gaggan Satinder Bedi, Head Transaction at FirstLease (Commercial service provider) also mentioned that the major concern area for the real estate sector has been increasing prices of raw materials and unfortunately no relief in this has been announced in the budget presentation.
Many expectations of the real estate developers from different parts of the country were left unaddressed yet there is a glimmer of hope that the Government will consider the demand of the sector before finalizing the budget.
By Admin , 2022-02-04 06:20:47